Wet Plate Workshop
濕版攝影工作坊
Workshop Introduction:
Start with our mind set of what Wet Plate Processing is, we study its concept, moving on to the practical aspects. Student will learn the making of Wet Plate Glass Ambrotypes, Glass Negative, and related matters that warrant attention
Under supervision the student will learn all the procedures step by step. For example, you will learn about formulating and mixing chemicals, coating, exposing, developing, and storage, etc. Making and the usage of all hardware and software will also be explained in details. (More information)
This is a 4 days workshop, which includes a day of outdoor shooting practice.
Each student will create and retain his/her own art piece.
Lessons may be taught one on one setting.
Language will be in English or Cantonese.
Workshop date will be discussed and confirmed with students.
Lesson will be approximately 8 hours per day.
Location is at the studio of Photoworkshop in Hong Kong.
Workshop fees: : HK$ 8680 (4 days workshop).
Any student who enrolls should have possessed basic photography knowledge and already be familiar with the usage of cameras and lenses.
Included in fees: All necessary materials and handout notes for the lessons. Student is permitted to use equipment belonging to Photoworkshop during class. Student may also bring his/her own equipment.
Excluded in fees: Transportation, insurance, meals, and additional materials outside the scope of workshop.
If interested to enroll or to obtain more information, please contact: This e-mail address is being protected from spambots. You need JavaScript enabled to view it


Other Class You may interested : www.bwclasshk.com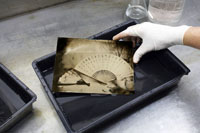 Subjects Covered:
Selecting camera and lens
Analyzation and utilization of Petzval lens
Selecting, cutting, and cleaning glass plate
Selecting and identifying chemicals
Formulating and mixing chemicals
Selecting, fabricating, and utilizing containers
Fabricating and improving peripheral hardware
Technique in coating Collodion
Determination of exposure time
Controlling the contrast and color tone
Utilization of UV and artificial lighting
Particulars in outdoor shooting
How to protect the images
How to store and display the glass plates
Appreciation of art works
Others